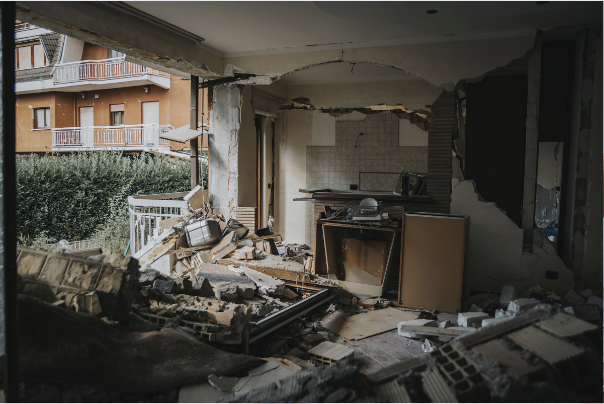 EARTHQUAKE INSURANCE IN OREGON
Are you thinking of getting Earthquake Insurance in Oregon? About 20% of homeowners in Oregon added earthquake coverage to their home insurance because it protects any direct physical loss to your building and personal property caused by an earthquake. However, it does not provide coverage for erosion, landslides, tsunami, or volcanic eruption, even if caused by an earthquake or aftershock. Talk to our agents to learn more about earthquake insurance.
At Zolezzi, our goal is to help our clients find the best earthquake insurance to cover their home and personal property at an affordable rate.
WHAT IS EARTHQUAKE RISK?
Earthquakes happen in the United States more often than you think. The West Coast has a 70% chance of experiencing a 6.7 magnitude earthquake or higher. (maybe add something like each year or in the future. The sentence doesn't feel complete.) Located along the Cascadia subduction zone, the state of Oregon is at a higher risk, and experts warn of the potential for an earthquake with a magnitude of 9 or higher. In the event of a Cascadia earthquake, Oregon emergency management officials expect major infrastructure damage, tsunami waves of up to 100 feet, and services down for up to two weeks. As an Oregonian living within the Cascadia subduction zone, it's a smart move to prepare and mitigate risks to your home and property with earthquake insurance.
WHAT IS THE COST OF EARTHQUAKE INSURANCE?
The construction materials of your home may impact your earthquake insurance cost. For instance, homes constructed with wood withstand earthquakes better than brick. Earthquake Insurance typically carries a higher deductible than your home insurance policy. Some insurance companies offer deductibles from 10-20% of your home insurance coverage, while other companies offer $5,000-$15,000 earthquake deductibles. Rates vary significantly depending on earthquake maps, with deductibles typically higher in states with higher earthquake risks. Our Zolezzi Insurance Agency team can help you discover your earthquake insurance options.
IS EARTHQUAKE INSURANCE WORTH IT?
Earthquake insurance can be expensive, but the damage to your home caused by an earthquake is costly to repair. Your standard home insurance policy will not cover repairs for damages caused by earthquakes or earth movement. Purchasing an earthquake insurance policy can help offset potential risk. One of our professional insurance agents will discuss the benefits and costs to help you determine if earthquake insurance is needed for your property.
HOW CAN WE HELP YOU?
ON THE PHONE OR IN PERSON – We gather information about your current insurance policies and current coverage needs.
COMPARE PERSONALIZED QUOTES – We collect quotes from various companies to allow you to shop for the best coverage at the best price.
OUTSTANDING SERVICE – We provide outstanding customer service for your business and personal insurance needs with staffing in 3 locations.