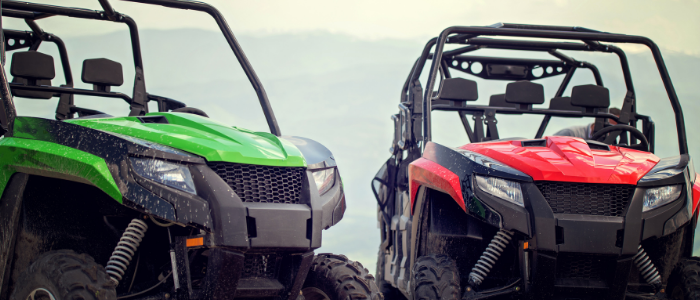 ATV Insurance in Oregon (SUTHERLIN, DRAIN, FLORENCE)
Are you searching for ATV Insurance in Oregon? Oregon is famous for its fantastic scenery and opportunities to enjoy outdoor recreational activities year-round with ATV and recreational vehicles. Make way for more fun and peace of mind when you explore Oregon's natural wonders with the right insurance coverage.
Call a qualified Zolezzi Insurance agent today to talk about:
Snow Machine or Snowmobile Insurance. It ensures you and your sled in case of an accident.
Motocross or Dirt Bike Insurance. It pays to repair or replace your damaged bike.
ATV or Quad Insurance. In the event of an accident, it assists you in the repairs of your ATV and/or damages to the other person's property.
Sand Rail or Dune Buggy Insurance. It protects you from various risks that you can face as a driver, giving you peace of mind.
Golf Cart Insurance.  It helps you pay for repairs to your golf cart and cover your costs related to an accident.
recreational vehicle insurance
Just like with other vehicle insurance, there are plenty of coverage options for specialty or recreational vehicles.  This includes:
ATV Collision Coverage
Collision coverage protects your ATV from severe physical damage. This entails collision with another vehicle, a fence, tree, or other obstructions. You pay your deductible, and the collision coverage takes care of the rest.
ATV Comprehensive Coverage
Comprehensive ATV insurance coverage usually pays for damage to your ATV caused by something other than a collision (vandalism, theft, etc.).
Property Damage and Bodily Injury Liability 
This is a type of ATV insurance covering medical expenses and property damage expenses caused by your ATV.
Uninsured Motorist Coverage
Uninsured Motorist Coverage pays for your expenses when you are involved in an accident with an uninsured motorist. This insurance can cover your medical costs and even missed salaries.
Frequently Asked Questions about ATV INSURANCE in Oregon.
How much is ATV Insurance?
ATV insurance costs vary based on several factors.  These include the type of vehicle being insured, the driver's history of claims,  and credit score. It also depends on whether you choose collision, comprehensive, or custom parts and equipment coverage.
Do I need insurance for an ATV?
Most specialized vehicles are not protected by standard auto or home insurance policies, particularly when you're not on your own property. Several national, state and other public parks in Oregon require that riders of specialty vehicles be appropriately insured. When using your ATV on your property or farm, insurance may not be essential but is still recommended because damage to your vehicle and/or injury can happen anywhere, anytime.
Also, if your ATV or recreational vehicle is financed, the bank likely will require you to have physical damage coverage on the vehicle.
Whether your ATV or recreational vehicle is used to help you get a job done or for adventure, make sure you have the appropriate coverage to protect you and your vehicle.
Call one of our ATV Insurance agents to request a quote and answer your questions today.